Volkswagen San Francisco Really Believes in Community, and It Shows
No business is an island, especially not one well into its seventh decade of service in the Bay Area. Volkswagen San Francisco-and the Royal Automotive Group-take pride in the fact that we give back to organizations such as UCSF Children's Hospital, Glide Memorial Church, Academy of Friends and OneXone. We often have artwork on display from the kids at UCSF that we later put up for auction to raise money for the hospital. We also hold an annual winter benefit right at the dealership, and we offer complimentary vehicles for selected community events. We believe that a business cannot truly be part of a community unless it gives back, and at Royal Motors that continues to be one of our core values. At Volkswagen San Francisco, we believe in community. We believe in you.
---
UCSF Children Create a Masterpiece!
Royal Motor Sales brings in a classic VW van for the art therapy patients from the UCSF Benioff Children's Hospital. The children will be painting the van as a part of their therpy program, which will then be used as a children's playhouse for the hospital. 

The children turned our boring VW van into a work of art! Check out the pictures below.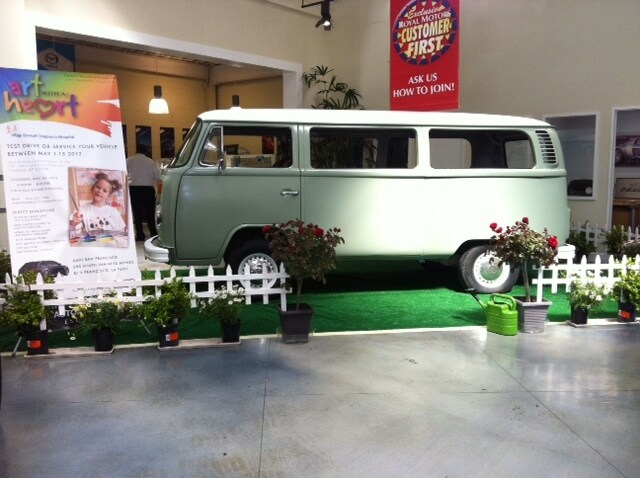 ---
Volkswagen Sea Otter Classic
Volkswagen is the proud sponsor of what is arguably the largest all-inclusive cycling event on the west coast occurring April 19th through the 22nd at Laguna Seca Raceway and the Fort Ord BLM lands. (//www.seaotterclassic.com/ )

Over 60,000 people will attend this four day event as participants or spectators ranging from some of the most prestigious professional and Olympic cyclists in the world to little kids in strollers. There is a huge bicycle expo area surrounded by virtually non-stop bicycle racing of literally almost every kind imaginable occurring on the roads, race track, and surrounding hills of Laguna Seca and Fort Ord areas.

To the average person the Sea Otter is quite a spectacle; to a cyclist it is Nirvana. Moreover, cycling is a bull's-eye lifestyle event for Volkswagen enthusiasts and soon to be Volkswagen enthusiasts. There are a limited number of four day passes available for this event. Visit our dealership for more details.
---
Art With a Heart Benefit Art Sale and Auction
Royal Motor Sales supports our local community through "Art with a Heart" a Benefit Art Sale & Auction to benefit the UCSF Children's Hospital.
---
Royal Motor Sales Donates School Supplies
Royal Motor Sales donates school supplies to help students at UCSF Benioff Children's Hospital. 
---
Proud Sponsor of the Snuggly Soiree
Royal Motor Sales is a proud sponsor of the Snuggly Soiree to benefit UCSF Children's hospital, Glogau Teddy Bear Rescue Fund
The grateful parents of a pediatric patient created the Glogau Teddy Bear Rescue Fund to provide toys, hotel vouchers and other amenities for needy children and their families at UCSF Children's Hospital.
Dr. Richard Glogau, a dermatologist and clinical professor at the UCSF School of Medicine, and Pam Baj, a nursing professor at San Francisco State University, established the fund to show their appreciation for the excellent care their son received.
Their son, born in 1989 with sever orthopedic problems, underwent two surgeries, several casts, braces and physical therapy.  Today, he is an avid athlete. In fact, Baj and her son meet with parents of children born with similar orthopedic conditions to share their experience and positive outcome. "I am so grateful for the excellent care my son received," Baj said. "We had a fantastic experience."
While their son was hospitalized, Baj and Glogau met many families who traveled long distances for the specialized treatment provided at UCSF Children's Hospital. These families incurred expenses including parking fees, meals and hotel costs during prolonged hospitalizations of their children. The Glogau Teddy Bear Resuce Fund is intended to assist needy families with small but important amenities.
The fund got its name from an incident in which a child arrived at the hospital without his teddy bear and needed a toy to hug on his way to the operating room, Baj said.
---
Royal donates $5,000 to the Haiti Relief and Development Fund

Royal Motor Sales partnered in 2009 with Audi to sponsor the second annual ONEXONE fundraiser in San Francisco. ONEXONE distributes food to the hungry youth of San Francisco, provides medical care to kids in Haiti, and gives children access to clean water around the world. Acadmey Award-Winner Charlize Theron and ONEXONE Ambassadors Matt Damon and Mia Hamm made it an event to remember.
Royal Motor Sales and Audi are both committed to responsibly ensuring that we effect positive change for the future. And nothing is more precious to our future than the children of the world.
The American Red Cross thanks Royal Motor Sales for their contribution below: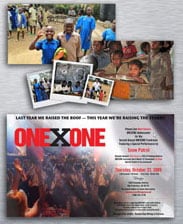 On behalf of the volunteers, employees and Board of Directors of the American Red Cross, I want to thank Anderson Enterprises, Inc. for your $5,000 donation on January 18, 2012 to the Haiti Relief and Development Fund.
Your contribution has enabled the Red Cross to provide critical assistance to the untold number of people affected by the Haiti earthquake and its aftershocks. This is the largest single-country personnel deployment in global Red Cross history. More than 400 Red Cross and Red Crescent workers from at least 30 countries are in Haiti supporting thousands of local volunteers. Each Red Cross team has its own role and expertise and is working together as one very powerful relief engine.
So far, more than 32 fights carrying 300 tons of Red Cross relief supplies have arrived in Haiti. Additional planes and trucks carrying Red Cross humanitarian asistance are expected every day. Our disaster response experts are on the ground establishing field hospitals and first aid posts, restoring water and sanitation systems and distributing relief supplies. Together with relief partners, the Red Cross is also helping to meet the temporary shelter needs while also developing a strategy to address long-term housing reconstruction. Next week, approximately three million pre-packaged meals from the American Red Cross will arrive -- partnering with the World Food Program for distribution.
We are grateful to have your support which truly brings hope and comfort to those affected by these devastating earthquakes. As the response evolves, please visit www.redcross.org or call 1-800-797-8022 to learn more about your gift at work. Once again, thank you for your compassionate support of the American Red Cross.
Sincerely,
Harold W. Brooks


---
Royal Donates 100 Turkeys
Royal Motor Sales donates 100 turkeys to Glide Memorial Church for the holidays.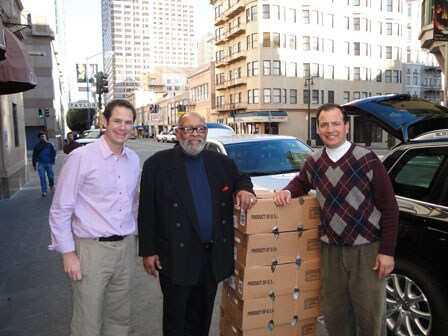 ---
Proud Sponsor of Academy of Friends
Royal Motor Sales is proud to be a major sponsor of The Academy of Friends annual Academy Awards Gala. This year Royal Motor Sales donated a 2009 Audi A3 PZEV to benefit the cause.
For the last 29 years, Acadmey of Friends has been on the front lines in the fight against HIV and AIDS, raising over $7 million to support 61 HIV/AIDS service organizations within the San Francisco bay area.
For the last 62 years, Royal Motor Sales' family-owned business has served the car buying needs of the San Francisco Bay area. We're thankful for all the friends we've made in the process.